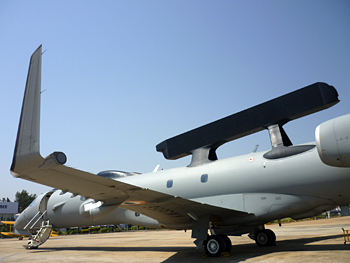 Somewhere in the western sector, an aircraft which could pass off for a business jet except for its extended nose cone and a turret-shaped contraption above the cockpit has been flying scores of sorties before joining the Indian Air Force (IAF)'s fleet, but it has already caught the fancy of several countries — South Africa, Brazil and Indonesia — among others.
The home-grown Airborne Early Warning and Control (AEW&C) system, the critical eye-in-the-sky developed by DRDO's Centre for Airborne Systems (CABS), Bengaluru, is only a step away from induction by the IAF, having flown more than 300 test sorties over different cities. Once airborne, the aircraft can fly continuously for five hours, or double that duration after air-to-air refuelling.
It can track several hundred targets simultaneously in the air and on the ground, some even 350 km away, thus dramatically enhancing the strike capability of IAF's fighter jets. Add to it the cost advantage: This AEW&C costs half the price paid by the country's neighbours for a similar system. "It is more complex than 'Tejas' (Light Combat Aircraft) because it is a software-intensive project which involves integration of the radar and other systems. All the challenges have been addressed well by Dr Christopher (CABS director) and his team. Our AEW&C has a lot of export potential," Dr V.K. Aatre, former chief of DRDO, and head of the mid-term review committee of the project, said.
Sources in the ministry of defence (MoD) said South Africa, Brazil and Indonesia have written to the Union government enquiring about the AEW&C — not just for military operations but for homeland security and identification of new fish schools as well.
In fact, representatives of Embraer SA, the Brazilian aerospace behemoth which has provided the EMB-145 aircraft for AEW&C project have discussed the possibility of forging a partnership to produce the system and export it during Aero India 2015.
Dr V.S. Arunachalam, former scientific adviser to the defence minister, who initiated this project, says AEW's induction by the IAF would help in 360 degree coverage, an advantage superior to a thousand ground-based radars. ''Its power will be felt by the adversary because it also has electronic counter-counter measures (ECCM). We had to go through some difficulties, including a crash, but we have an indigenous system which will help open up the land and skies of the enemy,'' he added.
DRDO has spent about Rs 2,000 crores over a decade for development of three systems, including acquisition of Embraer aircraft, setting up the infrastructure and flight testing.
Recently, the defence acquisition council (DAC) headed by defence minister Manohar Parrikar has sanctioned Rs 5,000 crores for the AWACS programme, a more advanced system to be integrated into six wide-bodied aircraft. The advanced version too would be developed CABS, Bengaluru, sources added.