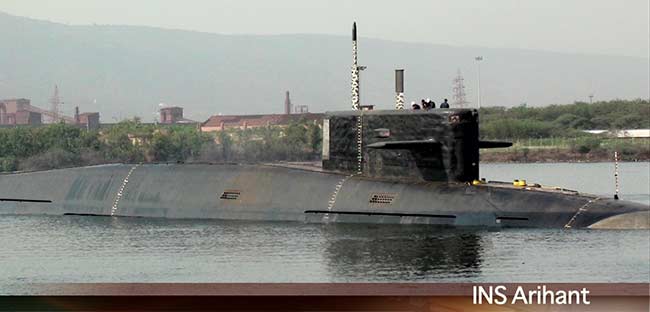 Retired Vice-Admiral Arun Kumar Singh commenting on Modi government clearing indigenous construction of 6 new nuclear-powered attack submarines said new production line in Vizag should be developed for the smooth construction of new attack class submarines.
Cabinet committee on security (CCS) have cleared Proposal to construct new Hunter killer Nuclear submarines and the decision will allow Navy to work on a naval staff qualitative requirements (NSQRs) for new submarines which are likely to be constructed in ship-building centre (SBC) in Vizag where India's first Ballistic missile submarine INS Arihant was constructed and Arihant sister class submarines are also under construction.
Naval planners and Scientist want to take up work on the new bigger and more sophisticated SSBN's with improved Stealth Characters and much more powerfull Nuclear reactor after construction work on Arihant class submarines are completed. BARC (Bhabha Atomic Research centre) have started work on developing new pressurised water reactor (PWR) for new submarines to be developed in near future.
India will take inspiration from on lease nuclear-powered Akula-II class SSN INS Chakra from Russia which already has provided effective protection to Indian naval fleet at sea even when India has seen depleting underwater combat arm.
SSN are considered much deadlier than Conventional Diesel powered submarines due its ability to stay underwater for months compared to few weeks of Diesel submarines, SSN is also seen as effective escort offensive wing of carrier battle group (CVBG) which provides outer layer protection for its high valued assets and have ability to undertake long-range patrols.
SSN are also seen as effective intelligence gathering systems which are used to spy on enemy combat fleet and used for Ocean floor mapping of International waters and regional seas so as to able to navigate undetected in vast ocean.