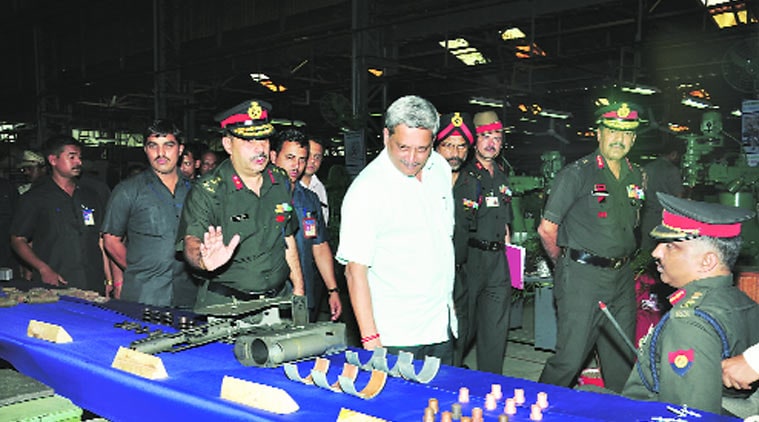 Defence Minister Manohar Parrikar at the 512 Army Base Workshop at Khadki
Defence Minister Manohar Parrikar on Saturday visited 512 Army Base Workshop in Khadki. Parrikar was received by Lt Gen RJ Noronha, Chief of Staff, Headquarters Southern Command. The minister was briefed by Brig Akash Popli, Commandant and Managing Director 512 Army Base Workshop, on the range of repair activities undertaken at the base workshop.
512 Army Base Workshop is the flagship base workshop of the Indian Army and is currently engaged in the overhaul of Armoured Fighting Vehicles (AFV) of East European origin. The workshop, set up in Mumbai in 1853, is today the largest base workshop of the Indian Army, with civilians and combatants working together. In addition to overhauling Infantry Combat Vehicles and Armoured Recovery Vehicles, engines for meeting the requirement of the field army are also being overhauled. A press release from the Defence PRO said that the minister appreciated the re-rubberisation facilities. 512 Army Base Workshop is also one of the primary spares supplier to the Artificial Limb Centre (ALC) at Pune, wherein spares for prosthetic limbs are manufactured and supplied for the rehabilitation of disabled soldiers.
Parrikar was shown the indigenisation activities undertaken under the Make inIndia initiative and was also briefed on the modernisation projects being undertaken to lift the workshop to contemporary industrial standards.