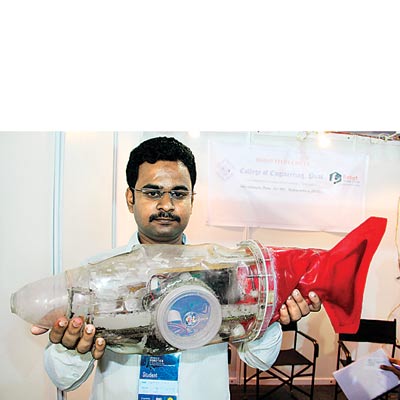 At first glance it looks like a fish floating in water but a closer look will reveal a fish robot that can be used for sea surveillance.
The device, developed by a group of College of Engineering, Pune (CoEP) students, can go up to 300 metres below sea level and facilitate in data acquisition and surveillance. The robot is displayed at the first international conference of Robotics Society of India 'Advances in Robotics'.
Working on the project for past one year, CoEP's Kaustubh Masurkar and Swapnil Kapase (MTech mechatronics) and Dheeraj Jangid and Amol Bakse (BE mechanical stream) displayed the robot at the international robotic conference at Research and Development Establishment (Engineers), one of the premier laboratories of Defence Research and Development Organisation (DRDO) in Pune.
Speaking to dna, Kaustubh said, "We four are members of the robots study circle formed at COEP and the cost of the whole project is around Rs25,000. The battery-operated robot is in its primary stage and can go nearly 300 metres below sea level."
He said, "It looks like any other fish and can be used for sea surveillance. We can mount a submersible camera on the robot to keep an eye on possible enemy threat. The capacity of this robot can be enhanced."