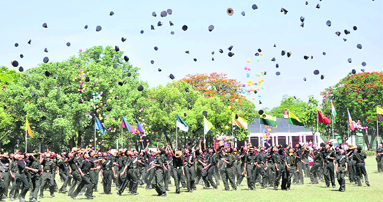 Gentlemen Cadets (GC) from the country passing out at this year's Indian Military Academy (IMA) parade on December 8, Uttar Pradesh has the maximum share with a total of 76 GCs coming from the most populous state of the country.The demographic statistics of GCs passing out of 131 regular and other parallel courses released by the IMA today had Uttar Pradesh topping the list followed by Haryana with 50 GCs.
Uttarakhand stands third with 46 GCs (10.92 per cent). The youth of the small hill state of Uttarakhand with a population of over 1 crore have shown excellent
results
in terms of its representation in the academy in recent years.There are 30 GCs from Maharashtra, 25 from Rajasthan, 23 from Madhya Pradesh, 22 from Himachal Pradesh, 20 each from Punjab and Delhi and 11 from Kerala.
Similarly, 14 GCs from the trouble-torn state of Jammu and Kashmir will pass out whereas four GCs are from the terror-infested Manipur in the North-East. Nagaland and Tripura have one GC each.
There are 10 GCs from West Bengal and 13 GCs each from Andhra Pradesh and Bihar. Five GCs are from Tamil Nadu and nine are from the southern state of Karnataka.The Union Territory of Chandigarh has four GCs. Jharkhand too has five GCs. Five GCs are from Gujarat, four are from Assam, two from Chattisgarh, five GCs are from Orissa and two GCs from Meghalaya.
Among other
highlights
of the parade, there is one GC from Nepal who has opted to
join
the Indian Army. According to the Indo-Nepal
Friendship
Treaty, Nepalese citizens can be absorbed as commissioned officers in the Indian Army.