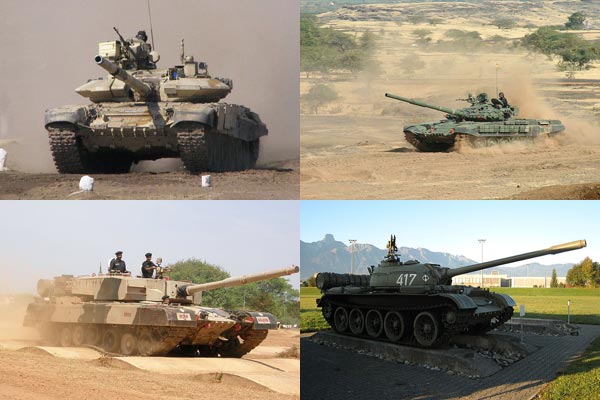 New Delhi: A battle tank is a tank that fills the heavy direct fire role of many modern armies. They were originally conceived to replace the light, medium, heavy and super-heavy tanks.
Development was spurred onwards in the Cold War with the development of lightweight composite armor. Indian Army comprises of some of the best battle tanks, lets know bit about them.

Here is the list:

1. Arjun MBT Mk-1

The Arjun is a third generation main battle tank developed by India's Defence Research and Development Organization (DRDO), for the Indian Army.

The Arjun features a 120 mm main rifled gun with indigenously developed APFSDS ammunition, one 7.62 mm coaxial machine gun, and a 12.7 mm machine gun.

It is powered by a single MTU multi-fuel diesel engine rated at 1,400 hp, and can achieve a maximum speed of 70 km/h (43 mph) and a cross-country speed of 40 km/h (25 mph).

It has a four-man crew: commander, gunner, loader and driver. Automatic fire detection and suppression, and NBC protection systems are included.

All-round anti-tank warhead protection by the newly developed Kanchan armour is claimed to be much higher than available in comparable third generation tanks.

With a total of 248 to be built by Heavy Vehicles Factory. This to be followed by the Arjun MK-II and the FMBT.

2. T-90S "Bhishma"
The T-90 is a Russian third-generation main battle tank that is a modernisation of the T-72 (it was originally to be called the T-72BU, later renamed to T-90).

It is currently the most modern tank in service with the Russian Ground Forces and Naval Infantry. T-90 uses a 125mm 2A46 smoothbore tank gun, 1G46 gunner sights, a new engine, and thermal sights.

Standard protective measures include a blend of steel, composite armour, and Kontakt-5 explosive-reactive armor, laser warning receivers, Nakidka camouflage and the Shtora infrared ATGM jamming system.

The EMT-7 electromagnetic pulse (EMP) creator is used in testing but not fitted to T-90s in active service. It is designed and built by Uralvagonzavod, in Nizhny Tagil, Russia.

A contract, worth $800 million, was signed on October 26, 2006, for another 330 T-90M MBTs that were to be built with locally-sourced raw materials.

A third contract, worth $1.23 billion, was signed in December 2007 for 347 upgraded T-90Ms, the bulk of which will be licence-assembled built by Heavy Vehicles Factory.

The Indian Army would begin receiving its first T-90M main battle tank (MBT) in completely knocked-down condition from Russia's Nizhny Tagil-based Uralvagonzavod JSC by the end of 2009.

In all, India plans to have 310 T-90S and 1,330 T-90M tanks in service by 2020 (total of 1,657 tanks by 2020).

Manufactured locally in India. Rs 10,000-crore purchase of 354 new T-90MS tanks for six tank regiments for the China border has been approved. This takes total no. of T-90 tanks to 2011.
3. T-72 Ajeya
The T-72 is a Soviet-designed main battle tank that entered production in 1971. It replaced the T-54/55 series as the workhorse of Soviet tank forces (while the T-64 and T-80 served as the Soviet high-technology tanks).
In front-line Russian service T-72 are being replaced by T-90, a modernized version of the T-72. While in the Ukraine T-72s are being replaced by the T-80 and T-84 MBTs. It has been exported and produced in many countries.
4. T-55
The T-54 and T-55 tanks were a series of main battle tanks designed in the Soviet Union. The first T-54 prototype appeared in March 1945, just as the Second World War ended.
The T-54/55 series eventually became the most-produced tank in history. Estimated production numbers for the series range from 86,000 to 100,000.
They were replaced by the T-62, T-64, T-72, T-80, and T-90 in the Soviet and Russian Armies, but remain in use by up to 50 other armies worldwide, some having received sophisticated retrofitting.
Up to 200 additional T-55s are kept in storage. T-55s were to be phased out in favour of T-90.Some T-55s may be converted into Tarmour AFV by Heavy Vehicles Factory's