February 18-22, 2015
Bangalore, India
607 EXHIBITORS
50,000 TRADE VISITORS
10th EDITION OF THE SHOW
OVER 400 OFFICIAL DELEGATIONS
The AERO INDIA exhibition, organized by the Indian Ministry of Defense is the largest air show in Asia and has become a "must attend" for U.S. Companies interested in exporting to India.
Taking place in Bangalore, India from February 18-22, 2015, this premiere event will be a dynamic export opportunity for American aerospace & defense suppliers. The 2013 show featured over 600 exhibitors, all showcasing their technologies, products, innovations & enthusiasm to do business in the region. The show hosted over 400 official delegations consisting of Defense Ministers, Air Chiefs, and Ministers of State from over 50 countries. The Indian Aviation market is booming, and now is the time to make your mark with an exhibit in the government-supported U.S. Pavilion at Aero India 2015.
Lockheed Martin presents Mini Hit-to-Kill at Aero India 2015
The MHTK is meant to intercept a variety of targets that include rockets, artillery, mortar (C-RAM or Counter Rockets, Artillery and Mortar), as well as, Unmanned Aerial Vehicles (UAVs).
US defense and aviation company Lockheed Martin presented its Miniature Hit-to-Kill (MHTK) interceptor concept, which is part of the US Army's Extended Area Protection and Survivability (EAPS) program, for the defense of vital installations and positions from incoming aerial projectiles
The Miniature Hit-to-Kill concept being tested | Photo: Lockheed Martin
The MHTK is meant to intercept a variety of targets that include rockets, artillery, mortar (C-RAM or Counter Rockets, Artillery and Mortar), as well as, Unmanned Aerial Vehicles (UAVs). In battlefield and border environments, mortar fire can cause the highest number of casualties, being more common than other area weapons, like on the Line of Control (LoC) and the International Border (IB).
Christopher R. Jackson, Manager of International Business Development for the MHTK system for Lockheed Martin spoke to StratPost about it and according to him, while other systems rely on the explosive force of internally carried ordnance and proximity blasts to take out aerial threats, the MHTK carries no ordnance at all and relies only on the accuracy of its targeting system, the speed of the rocket motor and the mass of the interceptor.
He said that while other systems create two to three mJ (mega Joules) of energy the Mini Hit-to-Kill generates 200 to 300 mJ of kinetic energy through its sheer momentum.
The Miniature Hit-to-Kill in flight | Photo: Lockheed Martin
With a length of 71 centimeters, diameter of less than 50 millimeters and a mass of less than 3 kilograms, each MHTK system can protect an area with a radius of 2-3 sq kilometers and a range of 3-4 kilometers. With an NLOS (Non Line of Sight) launcher with a capacity of 135 rounds, incoming projectiles are spotted and tracked by a ground-based Fire Control Sensor radar and then illuminated by a Target Acquisition Radar (TAR). Meanwhile the MHTK interceptors with semi-active seekers are vertically launched from the NLOS launcher and home in on the illumination reflected from the projectile and destroy it by force of impact.
Jackson said that while they've 'done some test shots' on 'test bed radars', Lockheed Martin is looking for international partners for the project and Jackson thinks the development of the MHTK could be a good fit for the Indian government's 'Make in India' initiative, in addition to a solution for protection against mortars and other projectiles for Indian personnel.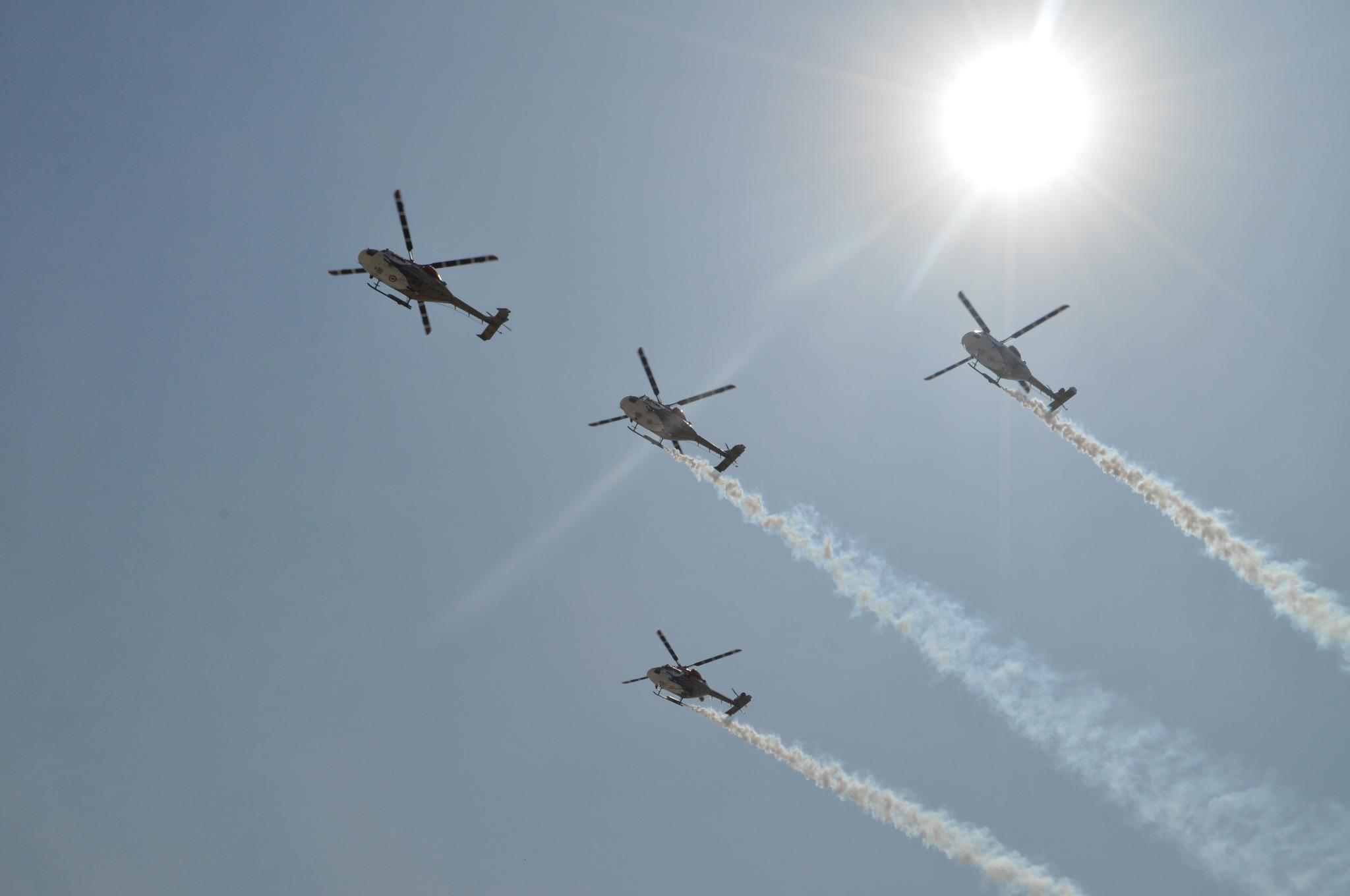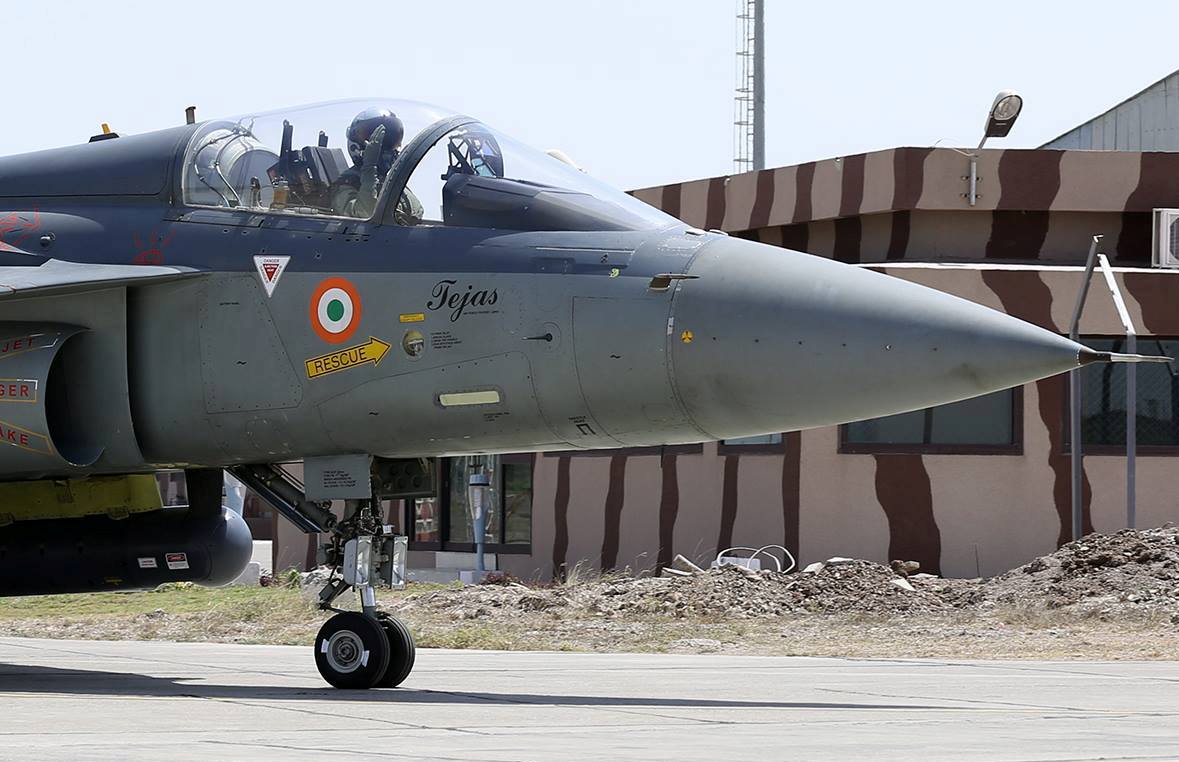 The Chief of the Air Staff, Air Chief Marshal Arup Raha in a HAWK MK 132 simulator at Hindustan Aeronautics Ltd., during the Aero India-2015, in Bangalore on February 19, 2015.
Visitors crowd the static aircraft display area on the second day of Aero India 2015 at Yelahanka air base in Bangalore.
C 17 Globemaster seen at the Aero India 2015 in Bengaluru on Friday. DH Photo.
Pics : DPR
Curtains on the five-day aerial extravaganza at Aero India 2015 came down at Air Force Station, Yelahanka, in Bengaluru, today.
With the business part earlier winding up in the first three days, the weekend show witnessed more than 100,000 people thronging the venue on each days.
With 'Make in India' being central to Aero India 2015 theme, defence manufacturing, airport infrastructure, aerospace, defence and civil aviation sectors were among the focus at the event.
While tangibles from the several business-to-business and round table meetings that took place will take time to be assessed, Aero India 2015 ends on a successful note.
Barring a mid-air collision between Red Bull members, which was handled with a very high degree of professionalism with no injury to anyone on ground or air, aerial displays continued to enthral audiences till the end.
Debuting on social media platforms, an effort was also made by the Directorate of Public Relations, Ministry of Defence to reach out to the ever-increasing social media followers worldwide providing updates and glimpses from the air show venue.
Day One : Aero India 2015



Air shows are essentially about business meetings and exhibits of military hardware and merchandise. But over the years the reputation of Aero India, now into its tenth edition has also been assiduously built by magnificent displays – static and aerial – by both civil and military aircraft, including participation by famed aerobatic teams from around the world enthralling audiences.




Aero India 2015 is also being much talked about and anticipated as world-acclaimed aerobatics teams – Breitling Wingwalkers (US), Scandinavian Air Show, Flying Bulls from Czech Republic, Yakovlevs formation display team from UK – are set to captivate the young and old onlookers alike.




While all aerobatic display teams are enthralling to watch the widest and loudest applause is usually reserved for our very own Indian aerobatics team 'Sarang' flown by young IAF helicopter pilots who are usually the show-stoppers whenever they take to the sky.




The IAF Sarang Helicopter Display Team has the unique distinction of being one of only two helicopter display teams in the world, the other being 'Blue Eagles' of the British Army.




The team evolved from the erstwhile 'Advanced Light Helicopter' Evaluation Flight (AEF) formed at Aircraft and Systems Testing Establishment (ASTE), Bangalore, on March 18, 2002.




The leitmotif 'Sarang' is derived from Sanskrit for 'peacock'. The helicopters have been painted in bright colours with the peacock form superimposed on them. It is today a widely and easily recognised artwork on these indigenously built helicopters.




"It attempts to symbolise the beauty and grace of the peacock during the display," explains Sarang Team Leader, Wing Commander AS Abhyankar. A qualified flying instructor and now Commanding Officer of the outfit, the return to Aero India for Wg Cdr Abhyankar and a few others is a déjà vu moment. Abhyankar first flew in the 2003 Aero India edition as a young Flight Lieutenant.




The Sarang team first debuted at the Asian Aerospace Air show at Singapore in Feb 2004. Since then, the team has performed in over 35 air shows in India and abroad. Their scintillating performance at Al Ain Aerobatic Show, UAE, in Jan 2005, earned them a reputation as one of the best display teams in the world.




In Berlin air show of May 2008, the team was adjudged as the 'best looking close formation team'. The team made history after five of its helicopters ferried across the English Channel from Germany to the United Kingdom.




"We are compelled to give bang for the buck," says Wing Commander Mudit Chaurasia, a sub-section leader in the formation who flies as 'Sarang-2'. Mudit has also flown in three previous editions of Aero India. "We have done shows all over the world but we get the maximum appreciation here," he enthusiastically adds.




The 'Sarang' team continuously strives to modify and perform new profiles for each display. While it is natural to expect daring and precise formation displays by fixed wing aircraft it is difficult for helicopters to perform similar manoeuvres owing to the inherent instability and large and unwieldy rotors, explains Sarang-2 leader Mudit. "This is what makes them so special and unique," he adds.




Having flown in several major air shows worldwide including at RIAT (Royal International Air Tattoo), Fairford, UK among others, Wg Cdr Chaurasia singles out his recent air show in November last over Passighat in Arunachal Pradesh as memorable. It is mostly in valleys of the northeast or J&K where most IAF helicopters earn their spurs early in their flying career.




What audiences will see at Aero India 2015?




The Sarang profile will begin with entry in an inverted wine glass formation. This will be followed by various close formations in 'Line Astern' and 'Diamond' formation to facilitate a closer look at the helicopters for the audience.




Three helicopters then group together to perform the star manoeuvre which is unique to helicopter flying – the 'stall turn' known as the 'Dolphin's Leap'. The team then continually keeps the audience glued to the skies with their breath-taking manoeuvres.




The team then regroups for its final signature manoeuvre 'The Sarang Split' involving the four helicopters criss-crossing each other vertically and horizontally to form a knot.




The Sarang Team




Apart from the two Sarang leaders, other team members include Wing Commanders Vinod Negi, the deputy Team Leader, Wing Commanders S Saravanavel, PR Ponnappa, Squadron Leaders G Komar, AS Pawar, SK Mishra, Milind Londhe, Daish and SS Barsing, who is the latest entrant to the team.




Squadron Leader Deepika Misra is the first and the only woman pilot in the team and has the onerous responsibility as the Team Safety Officer. Two pilots always remain on standby with the fifth helicopter in case of any eventuality while a quartet is flying.




The flying machines are kept airworthy at all times by a team led by Wing Commander Tarundeep Puri, Senior Engineering officer. Others in the team include Squadron Leaders Sourabh Kakkar and Joydeep, Flight Lieutenants Bharat Bajaj, Chandan Kumar, Sandeep Tewatia besides others.




Wing Commander Bhavana Mehra the team administrator also does the commentary for the displays. She has the distinguished privilege of being the commentator for not only the Sarang team but also with the erstwhile Suryakiran Aerobatic Team.
DRDO To Showcase Wheeled UAV At Aero India 2015
Panchi, Wheeled UAV
Indian Defense Research Development Organization (DRDO)'s in-service surveillance drone, Panchi will be showcased in the upcoming Aero India Airshow commencing from 18-22 Feb 2015.
The UAV currently available with the the Army is an un-wheeled version launched from a pneumatic rail launcher and uses a parachute drop system for recovery.
With the expansion of airfield infrastructure, including in forward areas, both services, along with agencies under the Home Ministry, have expressed the need for autonomous wheeled drones, SPS Aviation reported January 28.
The DRDO has been asked by the Army and IAF to build better surveillance payloads for the Nishant/Panchi and to concentrate on longer endurance versions of the vehicle in an Mk.2 configuration.
The Army and IAF feel that the rail launcher is convenient in terms of recovery but presents large logistical footprint for rapid operations, especially when airfield infrastructure is available.
The IAF is also waiting for the first flight of the Rustom 2 medium altitude long endurance (MALE) UAV that the Aeronautical Development Establishment (ADE) had promised will take place this year.
While the February deadline is likely to be missed, it could happen any time after June. The ADE and NAL are also expected to announce progress on their respective mini and micro drone programs that include possible contracts with police services and agencies under the Ministry of Home Affairs that have evinced interest in tactical systems.
Pilatus PC 12 NG Aircraft